Do check out Sandra's recent interview podcast and two meditations, now available through Hay House! 
Resilience might be the most important word of 2020. Join Sandra Anne Taylor as she shares her wisdom on managing stress, finding strength, and moving forward – while walking a spiritual path.

"Maintaining Strength and Emotional Balance in These Changing Times" is an interview you won't want to miss!
ALSO
now
available on Hay House: 
"Goal Projecting Into the Energetic Realm" (Evening meditation by Sandra Anne Taylor

)
 "Setting Your Emotional Intentions"

 (Morning meditation by Sandra Anne Taylor)
You can listen

for free

on

your usual podcast platforms – Both the interview

and

the meditations will be there for a few weeks. 

 

You can also

try out the Hay House Unlimited Audio App and be able to access Sandra's meditations any time you wish!  It's

totally free for 14 days

, and then just $59/year or $9.99/month. 

Click Here to try the App! 
IMPORTANT NOTICE – DUE TO THE COVID 19 OUTBREAK,  PRECAUTIONARY MEASURES ARE BEING TAKEN AT OUR WAREHOUSE.  THEREFORE,  ORDERS FOR PHYSICAL PRODUCTS AT THIS TIME WILL BE DELAYED.  WE THANK YOU SO MUCH FOR YOUR PATIENCE!
~ ~ ~ ~ ~
ENERGY ACTIVATION
Mondays at 12 PM CT, 1 PM ET 
Access the power within you and around you with best-selling author, counselor, and consultant Sandra Anne Taylor. Tune in each week to Energy Activation and explore the holistic and spiritual nature of attraction and manifestation. Discover the science of personal energy patterns as Sandra shares techniques and affirmations to shift your energy on a regular basis.
Listen live and join the show at 816-251-3555 or get the podcast later for free! 
~ ~ ~ ~ ~ ~ ~
Now available on Amazon
Words carry powerful energy and have an astonishing impact on your life. With Power Words, you can generate new actions and lightning-fast results!
Use them to sharpen your focus, start new projects, break old addictions, attract relationships, and succeed in any number of goals – from weight loss to finding a job. Each word triggers its own specific purpose and activity. Certain words elevate; others ignite action. And in just moments, they can be yours to direct.
These high-energy words can immediately lift your power and alter every aspect of your reality – from the simple, such as your posture and sleep patterns, to the life changing, such as your creativity, personal wealth, and relationships.
Power Words can create an electrical current in your life that will light up your world.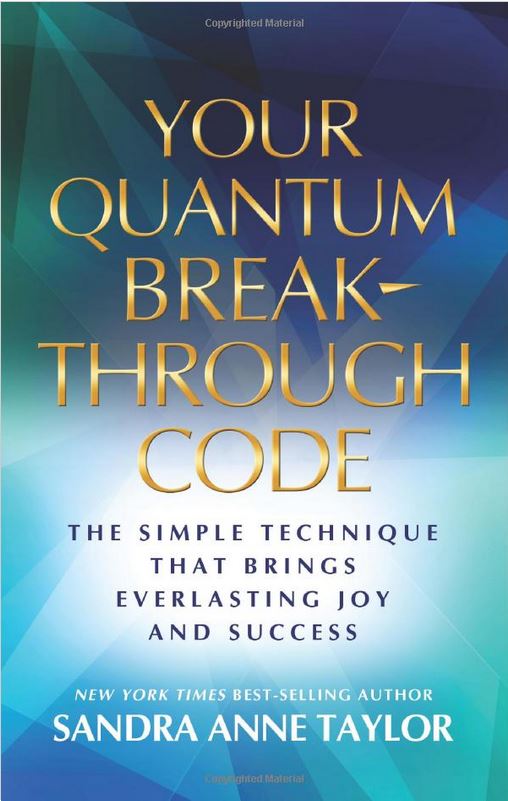 Do the patterns of your life seem to have a momentum of their own? This is your opportunity to break through! Your old, reactive patterns of unknown negative energy don't have to direct your destiny any longer. In this groundbreaking book, Sandra Anne Taylor reveals Your Quantum Breakthrough Code, the amazingly easy yet empowering technique that can completely reroute the direction of your life. Things will never be the same when you learn:
How to ignite the breakthrough forces that attract a spectacular reality
How to decode harmful energies and code healthy and successful patterns
The single breakthrough code that you can use anytime, anyplace
The surefire rapid visualization and affirmation technique
The powerful Peace Process that creates a tranquil and magnetic energy
Get ready for a quantum breakthrough! These fascinating, unbelievably quick, and easy techniques will bring you a life of unparalleled joy and success.